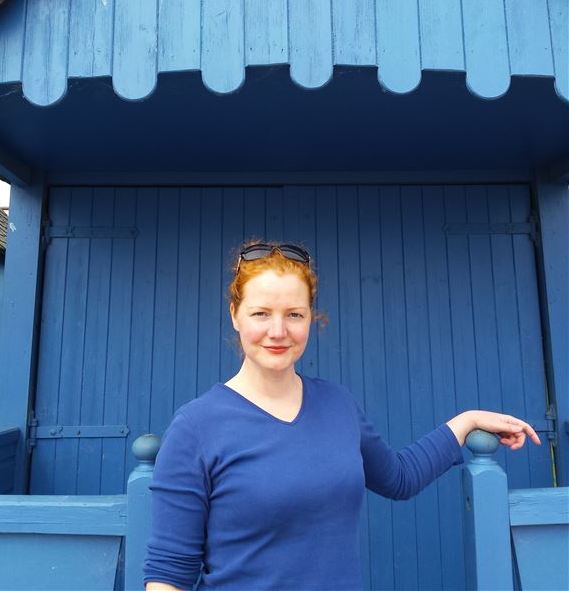 Alexandra Moskalenko (born 1971, Paris) graduated from the Institut Supérieur du Commerce (Paris) in 1995 and studied Economics of the Environment and International Trade Law at the University of Westminster. She has worked in the Communications department of world renowned museums and galleries in Paris and London for more than 25 years. She has been living in London since 1995.
Alexandra Moskalenko's paintings celebrate diversity and often depict people from various ethnic origins on colourful vintage fabric, exploring the concept of identity and displacement, informed by the artist's own experience of coming from a multicultural background and living in London, one of the world's most cosmopolitan cities. The large, vibrantly coloured canvases become statement pieces for what 'fitting in' or belonging may mean and question how a character can influence an environment and vice versa.
Recently she has exhibited her work at the Fresh and Affordable Art Fair (2022) and one of her paintings was shortlisted for the Brixton Art Prize (July 2022) and the Visible Artist Award (May 2023) sponsored by Audible. She has works in private collections in France, England and the United States.
Her recent body of work features endangered bird species and plants exploring in the process the concept of freedom, conservation and biodiversity. Her 'Kiss' series dives into the ideas of relationships, and is also an exploration of our relationship with nature and the environment. The steps and the door, which represent the idea of 'home' and the frontier between the man-made vs the natural environment are also metaphors for progress and discovery beginning at one's doorstep. To view her most recent paintings visit @alexandramoska on Instagram.
Alexandra is also a film-maker. She started working with film as a medium initially to present an artist's work and practice and to share the experience of meeting artists and discovering their work. In 2001 she produced and directed Portrait of an Artist. In 2002 she was commissioned by the National Maritime Museum (Greenwich, London) to produce a short film Tattoos for the Skin Deep exhibition (22nd March – 30th September 2002) and in 2008 produced and directed Tea Time, a film about the Blackheath Tea Hut, a tea stall situated on the A2 in Greenwich, London longitude 0°. She has written poetry and movie scripts.